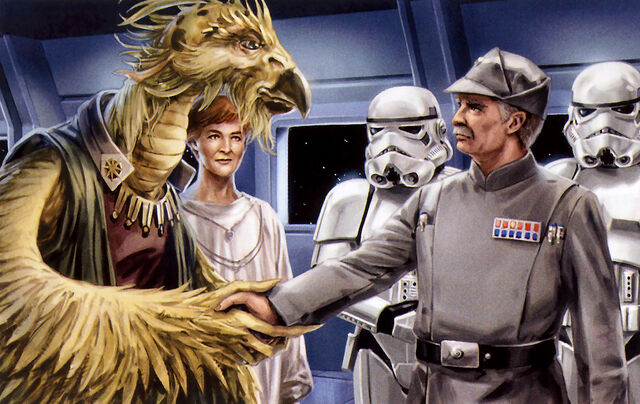 "Igor! Is it done?"
"It is, master."
"Look, it lives! My creation LIVES!"
Several months on from the Great Reboot, a set of questions linger over Star Wars fandom: Could the continuity have been made to work? Could there have been an excision point whereby a lesser part would be jettisoned to save the greater? Could the reboot have been avoided? The answers to these depend very much on how flexible you think filmmakers are willing to be and what kind of continuity SW should be.
I cannot say I was of the view it could never be done, but over time, I have become more skeptical and do not think it could be done and work for SW. The same moves would work for other franchises – Marvel/DC superheroes certainly, Transformers would likely pull it off, Doctor Who would find it laughably easy, but none of those are SW. So a further question is: What about SW stops these solutions taking effect? I will examine three excision points, points where a merge could be considered. The questions for each are those outlined above.
1. After Vision Of The Future
For many, this is the logical cut point and it has much to recommend it. The war between the Empire and the New Republic has been settled, by a negotiated peace. The Empire itself is notably reformed from the monstrosity conjured by Darth Sidious and is more an alternative style of government, rather than evil incarnate. The New Republic is willing to respect that so long as the Empire accepts certain rules of free association and change, so has not become what it fought either. Finally, the Jedi have had a modest revival and have successfully mediated minor conflicts and prevented them going further.
However, there is also Mara Jade and her looming marriage to Luke Skywalker. And that's where this starts to fall apart. If those creating the sequel trilogy want complete leeway, then how to get rid of Mara Jade? There are a number of options here, most of them used by superhero comics. The engagement falls apart, DC did this quite infamously with Batwoman and reaped a deserved whirlwind of scorn for it. Setting up an engagement and then having it fall apart reeks of the worst kind of bad faith. It's also the move of a very sour soap opera. Due to that, I do not see that working and they're not going to write in Mara Jade into the ST either, so what looks the best point to cut has just become unviable.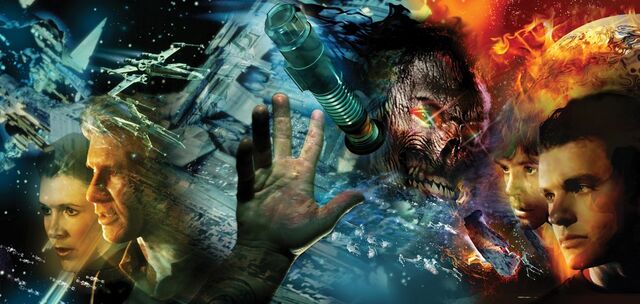 2. After The Unifying Force
Surely a cut could be done here? Not necessarily, as there's still the Jade problem to contend with, a problem that has added to its complexity with Skywalker spawn no less! But let's leave that aside to look at the big 800-lb gorilla in the room – an alien race of biotech wielding sadomasochists invaded, destroyed hundreds of worlds and killed 365 trillion at a conservative estimate.
There is the statistical solution: In a galaxy of the size of SW, these figures may appear mind-bogglingly high but are actually a fraction of the whole. There are considerably more worlds intact and beings alive then the statistics suggest. The problem here is that people tend to see statistics as a matter of belief and then tend towards skepticism!
Could it be hand-waved away? It could but I do not see it as a good move to do so. This is all about what kind of continuity SW is to be. Del Rey received a huge amount of flak for sweeping the effects of the Vong invasion under the carpet. They did so because it felt like a breach of the rules that SW signed itself up to, that events matter and have impact. Dark Nest breached that compact with a casual contempt that infuriated many. To do so for The Force Awakens would be a much bigger breach and I don't think it would be accepted by those who've followed the story.
3. After Invincible
This is perhaps one of the most notorious of the EU's creations. A story that ends with a severely psychotic ex-Imperial placed in charge of the Galactic Alliance. (Galactic Alliance? New name for the New Republic, even SW does governmental re-branding!) What this particular cut point brings up is the problem of dead family members. By the end of Invincible and the series it concludes, Legacy of the Force, Luke's wife, Mara Jade, is dead, as is Han and Leia's son Jacen, who went to dark side at Mach V and had to be killed due to gaining Infinite Powah! (TM)
Leaving aside that it's slap-bang in the time period for the ST, how exactly would anyone be able to merge the stories at this point and have it work? It just is not possible to do so. LotF has made too many radical moves and offed too many characters. It's probably not enough death to qualify for being Game of Thrones-style SW, but it's on the road to it.
The Casual Crowd
Even if the EU fans are unlikely to accept a merging due to the attempt creating a bastard continuity, that reeks of illegitimacy and disrespect, what of the casual fans and film audiences? They'll buy anything, won't they? It is a very common fallacy to think that film audiences are dumb, or don't notice clumsy CGI, or idiotic plots or bad acting. Similarly, people will be very invested in the films as SW fans. Expectations for Episode VII will vary greatly, but wanting something that flows logically from Episode VI would likely be a common factor. Some of these people will be aware there was various SW stories done over the years, have those been factored in? If they have, how have they been treated? Ah, well, about that…
So that's it then. No, I do not think trying to merge Legends with the new continuity is at all possible, but more that it should not be done out of respect to Legends! What each cut point had in common is that the preceding plots and characters would have to buried. Characters would be dismissed to limbo, plots curtailed, never to be returned to. I was following Batwoman when the engagement controversy around DC's bad faith on it blew up and it soured me on their books considerably, I don't want to see SW doing similar moves. I can recall reading Dark Nest and being truly irritated by its hand-waving, don't want more of that either.
If this examination has made the case for anything, it is that Legends should be continued. To me, that would be the more respectful option and it flows logically from creating the Legends tag in the first place – it may be someone, somewhere can weave a killer story that actually defangs the likes of Crucible! While that's being written Disney can publish a neat little niche product called The Re-enlistment of Baron Fel and have their execs do their best Scrooge McDuck impression of diving into a pool of money. The proceeds from that story alone would generate it, plus annotated editions of Dark Force Rising and The Last Command.