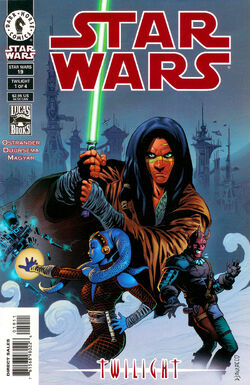 Among the many Star Wars licensees, Dark Horse has been the nearest to untouchable over the last decade or so. Among loud discontent with the direction of the novels, the merits of the TV show, and the decline of the video games, there has been little complaint about the quality of the comics. But hidden in that strong output has been one serious long-term mistake that has significantly undermined the quality, potential, and lifespan of Dark Horse's recent product. That mistake is the abandonment of ongoing monthly series in favor of series of miniseries.
Since roughly 2000, when Quinlan Vos stepped into the pages of Republic (then still known simply as Star Wars), the comics side of Star Wars has been noted for consistently high-quality output. Republic, Empire, Tales, Legacy, Knights of the Old Republic — all were excellent, beloved series with good sales. All those series, with the exception of Tales, which came out every third month with extra-long issues, were structured as monthly ongoing series.
2006 featured the first deviation from that pattern. Legacy and Knights of the Old Republic were launched as ongoings, and Republic and Empire changed names to Dark Times and Rebellion, respectively, but more significantly changed release schedules to run in alternating five-issue arcs. Instead of having an issue of each series on the stands each month, one series would release issues until it completed an arc, then the next series would run. That planned release schedule was quickly run off the rails by the long delays for Dark Times, associated with Doug Wheatley's art (which is, at least, worth waiting for). Rebellion lost synch with Dark Times, but continued to run only in five-issue arcs with longer stretches in which it disappeared from stands entirely. This was the first intrusion of the miniseries model into Dark Horse's offerings.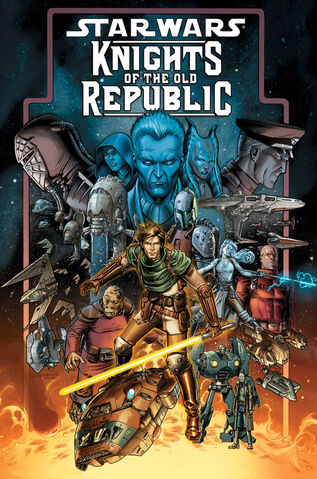 It was not until several years later that Dark Horse moved entirely over to the new model, in which it ran no monthly ongoings. Instead, everything was done in miniseries. Series like Invasion, Dark Times, Blood Ties, Agent of the Empire, Knight Errant, and Dawn of the Jedi ran five-issue arcs released as miniseries, disappeared, and then came back months later with another arc. Combined with the release of multiple one-off miniseries — Jedi, Knights of the Old Republic: War, Legacy: War, Lost Tribe of the Sith, Crimson Empire III, the multiple Darth Vader miniseries — the Star Wars comics landscape became a confusing welter of titles that appeared and disappeared from stands with little fanfare, consistency, or predictability for those not closely following announced release schedules.
To be honest, I don't know why Dark Horse moved over to the miniseries model, in which even notionally ongoing series like Knight Errant and Invasion became a series of miniseries. It does offer the advantage of allowing for one artist to remain on the title for all the issues, as artists simply can't put out twelve issues a year. It also allows Dark Horse to offer more titles "at once" in a larger sense. But those are only limited upsides, whereas the downside should be obvious: titles become unpredictable and hard to follow, follow-up is delayed, and in an industry that relies on keeping readers constantly engaged and buying the next installment, it undermines exactly the sort of connection with the reader that a series needs. Sure, everything had a new number one issue, but the power of that number to attract some new readers pales next to the importance of keeping readers invested.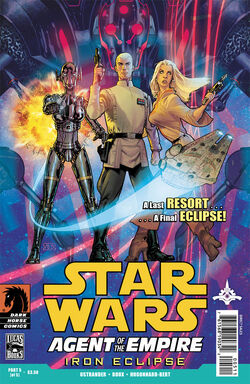 When Legacy or Knights of the Old Republic was coming out every month, the ongoing story was eagerly followed by online posters at the Jedi Council Forums. Dawn of the Jedi and Knight Errant, from the same beloved creators, simply haven't gotten the same response, and not for lack of ongoing story. Sales reflect the same story: in February 2012, the first issue of Dawn of the Jedi (and first issues typically sell the most) sold nearly nineteen thousand issues and subsequent issues have averaged around sixteen thousand, whereas any given issue of Legacy tended to sell nearly thirty thousand issues. Knight Errant likewise sits at least ten thousand issues lower than Knights of the Old Republic averaged. The difference is not a function of the recession lowering comic sales in general; 2012 comic sales are actually slightly stronger than they were in 2008, and the Star Wars titles have slipped not just in overall sales, but in their sales rank relative to other titles. Dawn of the Jedi debuted as the one hundred sixth highest-selling title; a random February 2008 Legacy issue, for example, stood at sixty-first. The fact that Star Wars sales have nearly halved appears to be a completely independent issue.
It is hard not to draw the connection between slumping sales and a sales model that made it hard to follow titles, did not put them out consistently for the buyer to keep purchasing, and limited the urgency to follow along with the story when it disappeared from stands, and thus minds, for long stretches. I think it is indisputable that the miniseries model did terrible damage to readers' ability to invest in the miniseries titles. Whatever motives Dark Horse had when it tried out the new model, I think it is time that we conclusively dismissed it as a badly failed experiment.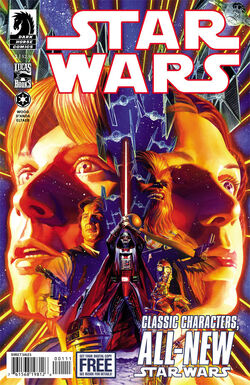 It is good to see Dark Horse finally moving back to monthlies with Brian Wood's Star Wars and Legacy Volume Two. But the experiment with miniseries is not entirely over yet, and the misguided format has still cost us excellent series like Agent of the Empire (canceled due to low sales that cannot have been helped by the release format) and undermined series like Rebellion, Knight Errant, and Invasion that have stopped running mid-story for one reason or another while failing to get out as many issues as they could had they been monthlies.
I liked having so many different titles, so many different directions, available when the miniseries model was in full swing, but in the long run, it seems better if Dark Horse concentrates on a few monthlies that can run strong and long rather than attempt a scattershot schedule of a great many titles that prevents any of the titles from gaining purchase and leads to the failure and abandonment of series mid-run.
(For those of you interested in the source for the sales figures I cited, I was using comics guru John Jackson Miller's excellent Comichron database. Feel free to explore it for yourself; I'd love to see any further insights you glean from the data.)