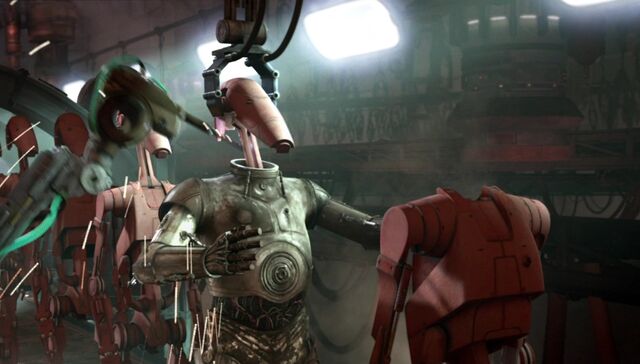 "He's more machine, now, than man; twisted and evil." — Obi-Wan Kenobi. 
"Oh my." — See-Threepio.
Are droids in Star Wars sentient? Well, we don't know. And I'm not here to tell you. Sure, I could pull out my New Essential Guide to Droids or Tales of the Bounty Hunters, and discuss whether it was a narrative crime not to include Vuffi Raa in the New Jedi Order, but that would mainly illustrate a broader point: why is this question almost exclusively dealt with in secondary sources? Is Star Wars even interested in answering this question?
A popular theory might be that Star Wars is space fantasy rather than science fiction, and as such the staunchly science fictional tradition of artificial intelligence would break the mythic iconography of a fairy tale in the stars. I'd argue that Pinocchio could just as easily be See-Threepio and that it's not that Star Wars hasn't integrated the traditional tale of the Golem into its canon, it's that it chooses to give it to clones rather than battle droids.
The Phantom Menace needed to establish villains a PG-rated movie would be comfortable slicing up with laser swords in their hundreds – it needed zombies, or monsters. Non-people. The stylistic trappings of a futuristic universe made robots an obvious choice. Threepio and Artoo, on the other hand, fill a very different narrative role and remind me of nothing so much as those magical animals in Disney movies. Those part-comic relief, part-best-friend, part-pet, part-plot-MacGuffin, often sent-by-a-fairy-godparent-with-important-messages, not-quite-people. Droids are magical helpers. Droids are familiars. If this were pure fantasy, Artoo-Detoo might well be Puck. Mechanizing the role is, once again, an easy way to adhere to the decor of the Star Wars universe, but slapping "droid" on both the comedy sidekicks and the faceless minions implies a commonality I don't actually think is there. The similarities are cosmetic. Thinking of Threepio and Artoo as soulless is, well, soulless, but the movies clearly invite us not to think about battle droids as anything other than automata.
Read More