Last week, online Star Wars fandom went into a brief tizzy over Padmé Didn't Die of a Broken Heart, an essay by Joseph Tavano for his blog RetroZap!. While I see things somewhat differently from Joseph, his piece stirred up enough thoughts in me that I thought a response was warranted. I'll summarize his point briefly in the next paragraph, but as these comments stem almost entirely from that piece, I strongly recommend reading it first if you haven't already—and maybe bookmark RetroZap! while you're at it; who knows what he might have to say in the future.
Okay? Let's do this. The primary assertions here are that 1) per the title, a "broken heart" had no role in Padmé's death, 2) Palpatine used his influence over midi-chlorians to drain the life from her and into Anakin during his transformation into Darth Vader, and 3) this is "irrefutably" proven by Palpatine's immediate knowledge of Padmé's death, which would only have been possible if he'd orchestrated it.
So I'm with him on the first point—both philosophically and pragmatically, that's a silly idea and only makes Padmé's already-iffy character arc even weaker. And furthermore, aside from her being seemingly unconscious for a while, there's no indication that the struggle with Anakin and her brief choking had anything to do with it either, as she stays alive for hours at least (if not much longer—but more on that in a moment) and doesn't seem to have that much trouble breathing at the end.
The final point, which Joseph proudly proclaims to be absolute evidence of Palpatine's foul play, is where he loses me entirely: "If [Palpatine] wasn't killing Padmé from afar, why oh why would he be aware of her death? There would be no news of it so suddenly; it had only happened seconds before he told the news to Anakin."
Here's the problem with this: it's a movie. Could those two scenes, Padmé's death and Vader's birth, be happening at the same time? It's plausible. The film crosscutting between them as it does is certainly a deliberate means of contrasting these two significant events—but the film doing that doesn't mean that's how it's "really" happening. The overall theory has a lot of merit, but explicitly hanging it on that assumption, I feel, was a mistake. Between ever-ambiguous hyperspace travel times and the "realities" of the two medical procedures we're dealing with, there's simply no way to say conclusively when these two events happened in relation to each other. It's worth noting, though, that Obi-Wan was already long gone from Mustafar by the time Palpatine showed up, and even if you throw out the Legends galaxy map, the film itself places it in the Outer Rim, which makes it pretty likely that Corucant was a longer trip than Polis Massa.
That combined with the fact that Palpatine does know about Padmé makes me pretty confident in asserting that she died well before Vader stood from that table—easily a day or so at least. So in conclusion, while Joseph's theory is solid and hard to definitively disprove, it's not totally convincing, either.
His second point, though, is what really interests me.
The thing that's always stood out to me about this sequence of events is that, in Joseph's words, "Palpatine is having the best day of his entire life." He's at the absolute height of his power (at least up to that point), he's beaten Yoda, he was indeed able to sense Vader's situation from across the galaxy, and hell, it's not crazy to think that he could have sensed Padmé's death, even if he wasn't doing it himself. But if he's that much of a badass in this moment, how the hell could he not sense that the twins were alive? More than the exact nature of Padmé's death, this is the thing that I wouldn't mind a better answer to.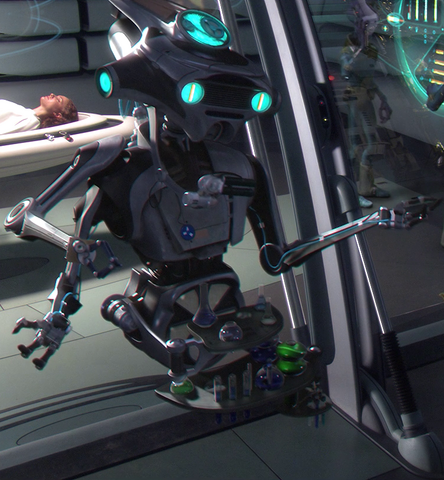 Where I do agree with Joseph is that the Force clearly has a hand in what's happening on Polis Massa and that's why the droid doesn't understand it. But I'm not seeing malevolence there, I'm seeing benevolence. As I've discussed before, the Force is playing the long game, and it knows that Anakin's kids are a key component in what has to happen. My opinion (and it's just that, but I do think it makes Revenge of the Sith a little more palatable and hopeful in retrospect) is that the Force is protecting the twins from Palpatine's gaze—masking their life force even as Padmé's is fading. There's no other explanation for Palpatine's ignorance that doesn't make him look either weaker than he should be or just plain sloppy. He couldn't have had one of his informants on Naboo inspect Padmé's body? Of course he could, but why would he need to if the Force itself told him the babies were dead?
But what, then, kills Padmé? Well, there are a couple options. She and Anakin did indeed have a special bond, so it's possible that he was subconsciously leeching her life away to save himself—which means Palpatine tells him the literal truth, which is generally his preferred modus operandi if you ask me. I think I prefer another option, though—I think the babies were dying. According to Legends they were a much-faster-than-natural pregnancy, interestingly, and even the movie makes it clear that they were coming out prematurely.
My bet is that the stress of Mustafar (and, yes, the choking incident) was too much for the gestating infants inside Padmé's body, and as her last act—and with the cooperation of the Living Force—she intuitively gave her life force to them. That way, Padmé's death becomes a proactive decision: either keep living or save the babies. It's the badass ending Leia's mom deserves, and it furthers her role as an instrument of the Living Force besides.
And hey—it could even explain why the babies in the film were so damned big.