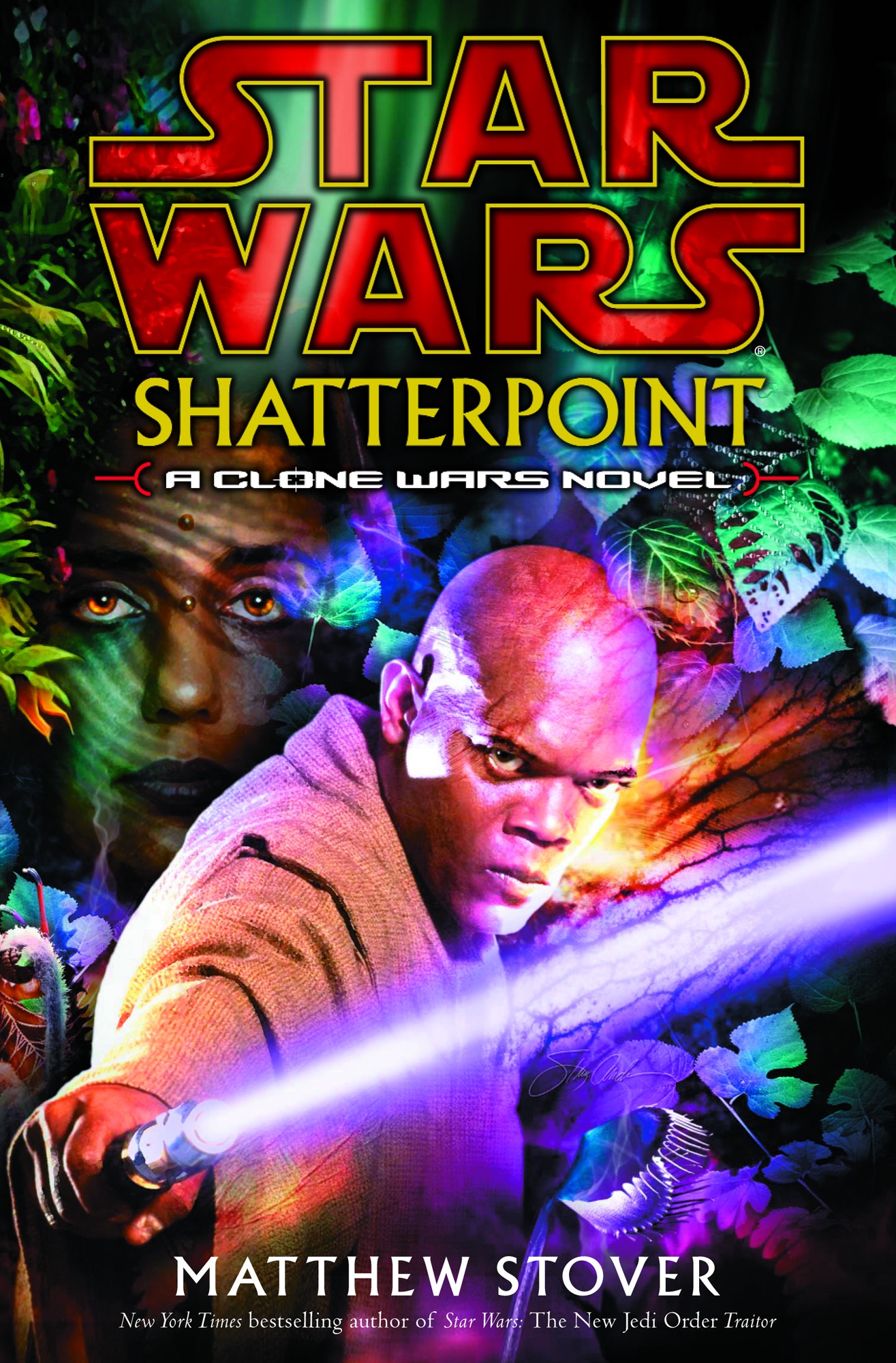 I can remember when I first read from Shatterpoint. It was a preview, in the back of Force Heretic: Refugee, for the first-ever Clone Wars book. At the time, my enthusiasm for Star Wars was at a low ebb; I'm not sure it was for any particular reason, but I had been sustaining an all-consuming fandom for six years, and The New Jedi Order had been dominating the Expanded Universe for years and changing the universe in ways I wasn't sure I was ready for and was mired in the particularly dull Force Heretic Trilogy. I was just starting to get a little burnt out and needed a breath of fresh air. That Shatterpoint preview was it.
Immediately, the prose was punchy, atmospheric — it radiated attitude. As I read, Mace Windu — a guy we had seen in the movies but didn't know that much about — landed on his homeworld, a new planet that leapt from the page with unique character, a jungle world so rancid its cities must live under sterilization fields. Then the action hit. Windu, naked after going through the probiotic showers required after arrival, finds a couple thugs harassing the other naked travelers in the locker room, stealing their valuables. Coldly, indifferent to the vulnerability of his nudity, Windu tough-talks the thugs, a supremely confident badass warning off weaklings he doesn't want to bother with — but kind of does. When they go for him, he knocks them senseless in a vivid, expert action scene. It turns out they're the local cops; that's the kind of world this is. Windu goes on to meet his Republic contact; on the street, they're caught up in some sort of riot, a fast-expanding street battle, and she's hit with a blaster bolt. As Windu kneels over her, trying to help her, the local militia come up.
The militia behind him clattered to a stop. "You! Korno! Stand away from that woman!"

He glanced back. Six of them. Firing stance. The lightpole at their backs haloed black shadow across their faces. Plasma-charred muzzles stared at him. "This woman is wounded. Badly. Without medical attention, she will die."

"You're no doctor," one said, and shot him.