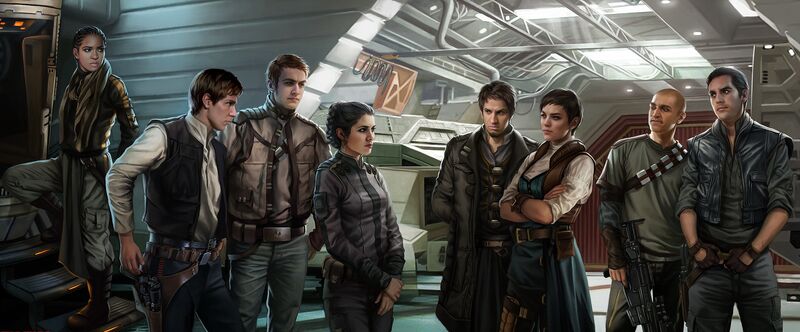 Lisa: First off we'll let Jay say some of his initial reactions to the book.
Jay: So in general, I thought this was a great story. At first blush, it seemed like a generic ANH-ESB bridge novel — random adventures of the Big Three, with mostly filmic references. And really, that's my only major complaint — namely that this is a Big Three story. Leia was a Rebel hero before she ever met Luke and Han, and I really wish we had a chance to see her shine without the other two. That said, Luke doesn't come in until the very end and Wells had a really fresh take on the Han and Leia romance. Maybe it's because it's different or maybe it's because she's a female author, but something about it felt more compelling than other authors' takes on the initial stages of their romance.
Now as I just said, the story was better than the original impression would suggest. I like the high ratio of female protagonists to male protagonists, because it's something we don't see often: most generic soldier characters are males in EU works. I also like the way that Wells used EU: there are some nice, unobtrusive references that belie the notion that the Rebels series is not really focused on the EU. Yeah it's mainly a filmic focus but it's a filmic setting too — I didn't think it too casual, or setting the stage for a reboot. I also especially liked the sense of scale, and the drama of the war. The main Imperial villain is a guy in a small customs corvette. He's small fry — and he's still a big threat. It gets the scope of the war right!
Lisa: Did you notice any EU references?
Read More